April Newsletter
Nominations for the Liberty Bell Award Are Open
The Augusta Bar Association welcomes your nominations for this year's Liberty Bell Award. This award is given annually to a non-lawyer for his or her outstanding public service and community involvement. The recipient will be honored at the Law Day banquet, which will be held Thursday, April 28, 2022. Please email nominations and supporting information to augustabarassociation1895@gmail.com by Friday, April 15, 2022.
---
Law Day 2022
Please see the invitation below for this year's Law Day Banquet: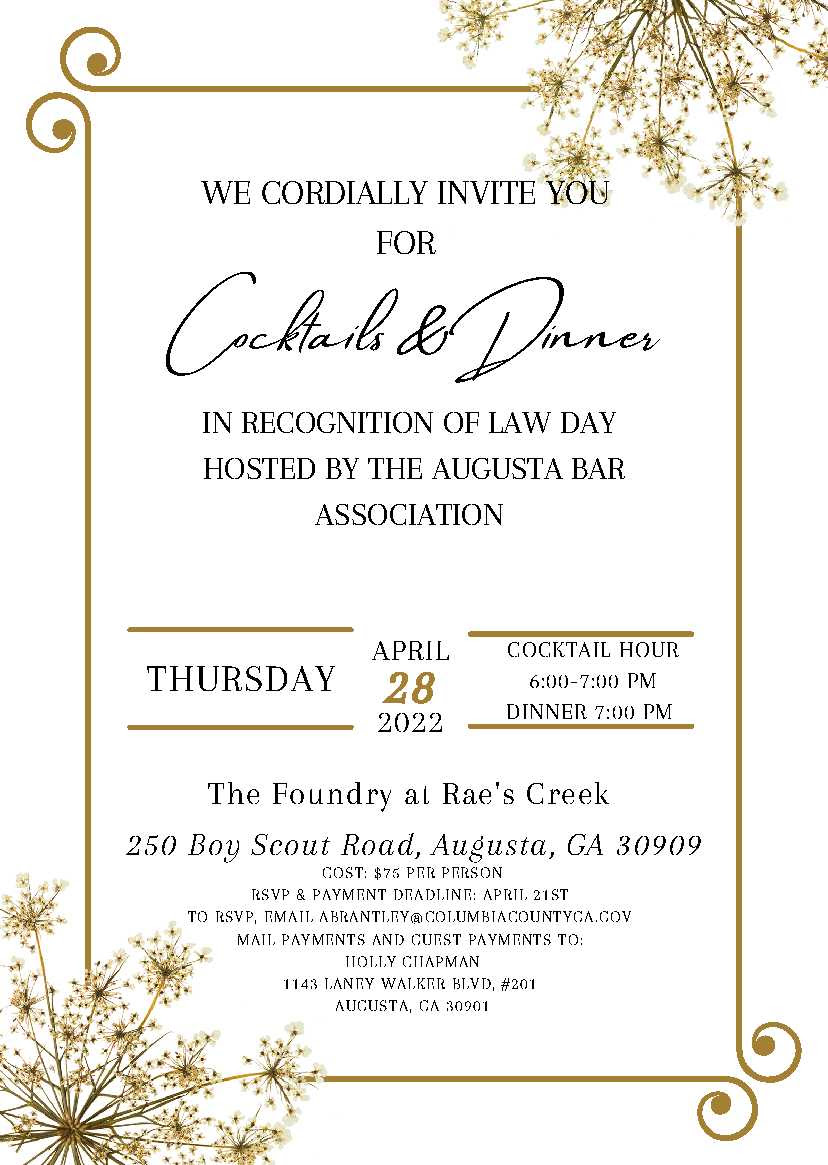 Additionally, there will be a Virtual Law Day Panel on Monday, April 25th at 1:00pm.  Please see the flyer below for details:
---
Job Openings
Please see below for several job openings in our area:
Augusta, Georgia currently has vacancies for the following positions:
---
Message from Judge Bo Hunter
Judge Hunter is expanding the list of possible non-profit organizations that could use community service people when assigned from State and Magistrate Court. Organizations currently using community service workers have commented that approximately 20% return as volunteers if they have been assigned to something that is an area of interest for them. If you are connected with any organization or group that might benefit from community service workers, please send the group name and contact person to thehunterfirm@gmail.com.
---
Augusta Bar Membership
Please send all forms to  augustabarassociation1895@gmail.com
Please consider making a donation to the Georgia Legal Services Program when you submit your annual state bar dues form this year. GLSP provides civil legal services for those in need, helping ensure equal access to justice for all Georgians.
If you have not already done so, please submit your dues for 2022. Please submit your dues with the dues notice.
Please ensure your contact information for the Augusta Bar Directory Website is correct. To update your contact information with the Bar, please use the Member Info Update Form.